Dentron Series GLA-1000 Amplifier Relay Connections
FOR SVETLANA EL-509\6KG6 TUBES ONLY
Transmit/Recieve Relay Connections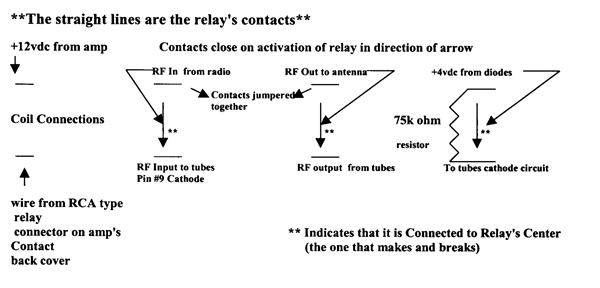 SUMMARY:

IN THE STAND-BY MODE OR IN RECEIVE CATHODE BIAS IS DROPPED ACROSS THE 75K OHM RESISTOR SHUTTING THE TUBES OFF. IDLING PLATE CURRENT IS THEREFORE REDUCED TO A VERY LOW VALUE. IN THE TRANSMIT MODE THE RESISTOR IS OPENED REMOVING IT FROM THE CIRCUIT. THIS SETS TRANSMIT IDLING PLATE CURRENT TO ABOUT 100 MA.

IN RECEIVE MODE SIGNALS COME IN FROM ANTENNA VIA THE COAX CONNECTOR ON THE BACK OF THE AMP (RF Out) into the relay center contact (the one that makes or breaks) through the jumper into RF In which delivers the signal to the reciever..

IN TRANSMIT THE RF DRIVE GOES INTO CONTACT (RF IN) TO THE INPUT TO THE TUBES AT THEIR CATHODE (PIN #9). AFTER THE TUBES AMPLIFY THE SIGNAL IT GOES FROM RF OUTPUT FROM TUBES ON TO THE COAX CONNECTOR ON THE BACK OF THE AMP LABELED RF OUT.

**Don't forget to install a 1N4007 diode across the relay's coil connections** The cathode (band)

of the diode is soldered to point (y) ,+DC, on the schematic** and the anode of the diode is soldered to the -DC side (GROUND).

In addition a .01 mfd ceramic 1 KV capacitor is supposed to be installed across the cathode bias point to ground.